Slyde Innovations
Workplace Storage Solutions
Slyde Innovations, a company based in New York City, provides unique security and storage solutions for the workspace. They focus on decluttering the workspace in ever shrinking work stations as well as ensuring the safety of important, expensive devices such as such as phones, tablets, and laptops.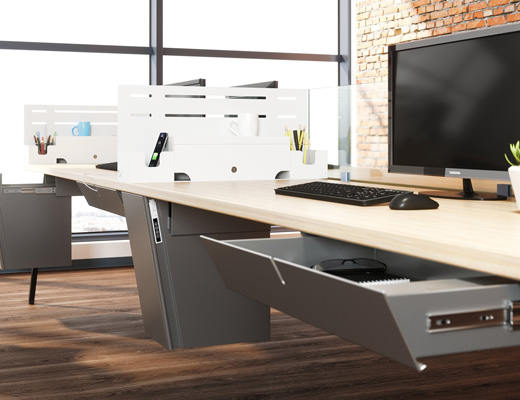 The architects of HLW, NY approached ProductLogic to team with them to design a personal lockable storage unit for individual workstations. The goal was to have features and accessories that the user could customize to their taste. The resulting design is a lockable unit that affixes beneath the user's desk. The unit contains movable, magnetized dividers that allow the drawer to be customized to the user's needs such as filing and personal item storage, USB charging and a power strip.
---
There are both USB and charging ports located in the drawer, allowing one to charge their devices without the mess of cords and permits one to charge their devices safely while away from their desk. There is built in ventilation for the electronics, as well as a soft liner to protect them.
---